Rhiannon Garth Jones — February 9, 2018
---
The funniest email autoreplies
How many times have you received an autoreply from someone that used last year's dates because they hadn't taken the time to double check it? It's only a small thing but it's nice to do it right. Even better, though, is doing it well.
There are some great examples out there of interesting, witty ways to write your autoreply before you leave for your vacation. Whether it's brutal honesty, impersonating a robot, sassing your colleagues, or outlining your secret hopes and dreams: this opportunity is too good to be missed.
We've rounded up a few of our favorite examples.
1. Kicking us off is this beauty from
PhD Comics
:
Anyone who has ever set this as their autoreply, we salute you.
2. Next up, impersonating a robot: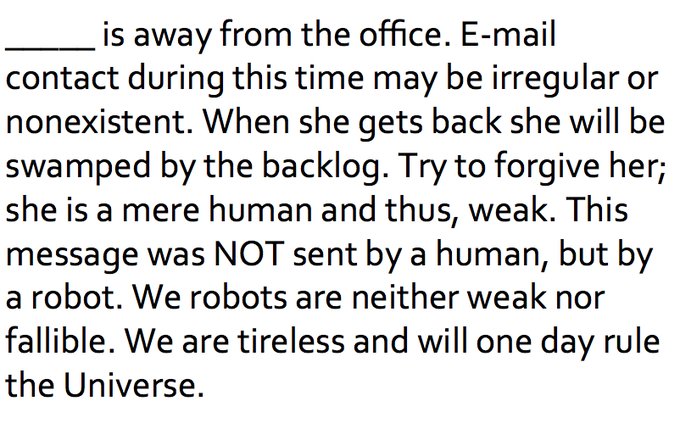 It's true: robots rule.
3. This carefully and professionally edited example is a great option: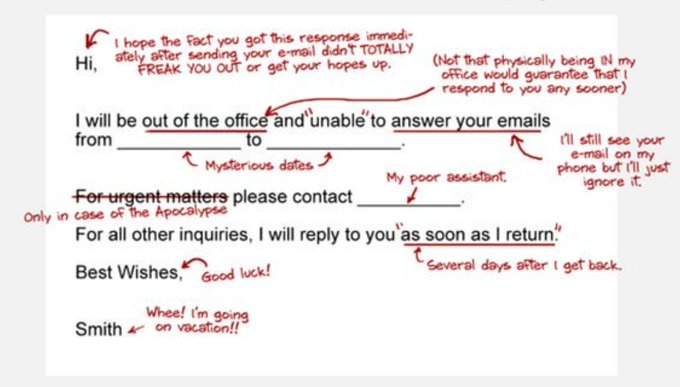 4. Sharing your hopes and dreams… Or, at least, the things you'd give up your vacation for: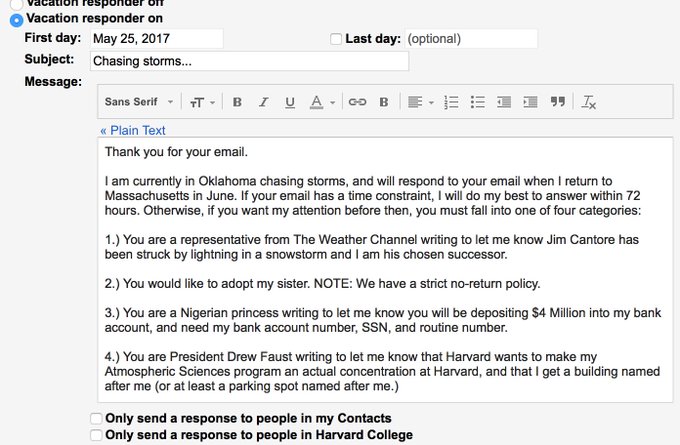 Some of Matthew Cappucci's aspirations seem a little more realistic than others…
5.
Josh Kopelman
, a Venture Capitalist, combines honesty, self-awareness and humor with a little bit of help – if you
really
need it:
I am currently out of the office on vacation.
I know I'm supposed to say that I'll have limited access to email and won't be able to respond until I return, but that's not true. My iPhone will be with me and I can respond if I need to. And I recognize that I'll probably need to interrupt my vacation from time to time to deal with something urgent.
That said, I promised my wife that I am going to try to disconnect, get away and enjoy our vacation as much as possible. So, I'm going to experiment with something new. I'm going to leave the decision in your hands:
If your email truly is urgent and you need a response while I'm on vacation, please resend it to interruptyourvacation@firstround.com and I'll try to respond to it promptly.

If you think someone else at First Round Capital might be able to help you, feel free to email my assistant, Fiona, and she'll try to point you in the right direction.
6. And, finally, keep it simple with this gem from
Barry Moroney
:
In the mood for sharing?
In the mood for sharing?